How to Paint a Death Guard Plague Marine from Know No Fear Starter Set
Here's my Death Guard Plague Marine:
If you like it, I'll show you how to paint a Death Guard Plague Marine like this.
Step 1
Army Painter primers:
Base Primer Matt Black;
Base Primer Matt White.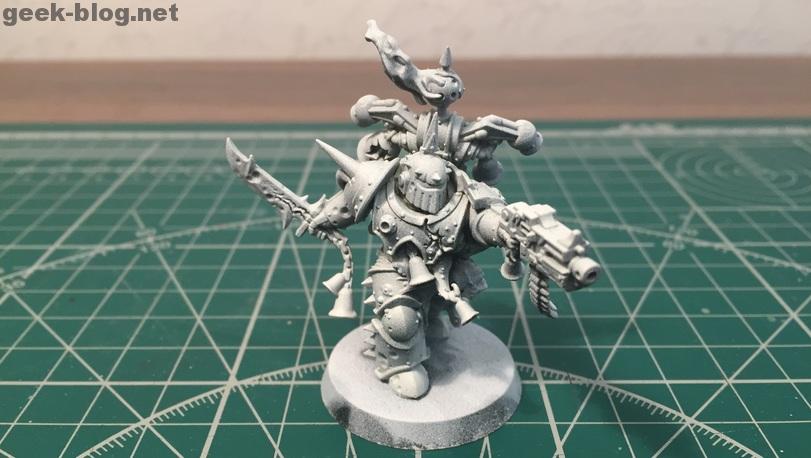 Since recently I've tried to prime Warhammer figures with two primers: black from below and white from the top. This Plague Marine I primed mostly white, not enough black primer but it's ok.
Step 2
Citadel Base paints:
Death Guard Green;
Steel Legion Drab.
First of all, I painted the almost full figure with Death Guard Green paint. On this step better miss smoke, parts which will be golden, bronze and metallic, tentacles, loincloth. In a word on this step, we paint only armor and backpack. I don't know why, but I like to paint base on the first steps. Maybe it's wrong but I like to do so. For the base, I used Steel Legion Drab.
Step 3
Citadel base paints:
Balthasar Gold;
Leadbelcher.
On this step, I painted golden parts of shoulders, knife, censer, and sleeves.
Then silver parts on bolt pistol, knife, armor, hips and backpack, don't forget about chains and plate on the left shoulder under the skulls.
Step 4
Citadel base paints:
Warplock Bronze;
Abaddon Black.
Abaddon Black is for Bolt Pistol, Warplock Bronze is for bells.
I think everyone will agree that bells painted in this color look really awesome! Later I used Warplock Bronze also for knife's split place.
Step 5
Citadel base paints:
Rakarth Flesh;
Mechanicus Standard Grey.
On this step, we'll paint small skulls on the shoulder and head on the belt by Rakarth Flesh.
Then use Mechanicus Standard Grey for ammunition belt, boltgun bottom part and for threads on head's eyes and mouth like it shown on the picture.
Step 6
Citadel base paint:
Citadel layer paint:
Here we only need to paint our death guard plague marine's helmet lenses and head cut place by Mephiston Red and smoke from censer by Ulthuan Grey. That's it.
Step 7
Citadel shade paint:
I was waiting for this step because after this step figure looks much better! Use this paint for all already painted parts.
Control amount of shade paint using palette. If used too much shade paint the figure will look dirty and it'll be hard to fix.
Step 8
Citadel base paints:
Bugman's Glow;
Screamer Pink.
Paint tentacles by Bugman's Glow. Don't forget about the small ones. Firstly I missed some of them (for example on the head on the belt), had to come back to this later.
Then paint the loincloth by Screamer Pink. This step is fast enough, but be careful with chains on a loincloth, don't drabble them by pink paint.
By the way on these photos well noticeable problem with paint on the base. As it turned out I used not enough primer. So I had to remove paint from the base rim, cover the miniature tightly by napkins and prime base again.
Step 9
Citadel shade paint:
On this step, we have to shade tentacles and loincloth. That's not hard.
As always, don't use too much shade. Remember, you'll always be able to make another one layer.
Step 10
Citadel base paints:
Death Guard Green;
Leadbelcher;
Screamer Pink;
Bugman's Glow;
Citadel layer paints:
Ulthuan Grey;
Pink Horror;
Ogryn Camo;
Ironbreaker.
This is the step for highlighting. Firstly use already used main colors for highlighting of all parts of the figure which are must be a little brighter than others. Like it was before shading steps.
Then use Pink Horror to highlight edges of loincloth, Ogryn Camo to highlight edges of armor, painted by Death Guard Green, and Ironbreaker to highlight edges of metallic parts.
This step is last for our figure. All that's left to do is to finish base.
Step 11
Citadel texture paint:
Apply this paint on the base and let it dry. My Blackfire Earth paint is really old and dry, so I had to dilute it in water in a palette, grinding it by something solid, don't remember by what exactly. Then I shifted this paint on the base. It dried up about one hour.
Step 12
Citadel shade paint:
Citadel base paint:
Like the finishing touch, I painted dried base by Agrax Earthshade, then painted again base rim by Steel Legion Drab to make it looks neat. Painting base this way simulates scorched earth. In my opinion, it's suitable for Death Guard army figures.
Result
Eventually, we have this Death Guard Plague Marine:
With drilled barrel!)
With cute bells and tentacles!
What I like best is how the left knee turned out, both shades and highlights are good on this knee. Also, I admire this boltgun with characteristic chaos engraving!
This is the most popular way of painting death guard plague marines with Death Guard Green as the main color. Maybe you'd like to try another painting schemes, for example, beige death guard armor looks very nice!